Citation:
Malinverno E, Dimiza MD, Triantaphyllou MV, Dermitzakis MD, Corselli C. Coccolithophores of the Eastern Mediterranean sea: A look into the marine microworld. Athens-GR.: "ION" Publishing Group; 2008 pp. 188. ISBN: 798-960-411-660-7. Copy at
http://www.tinyurl.com/jlkqhry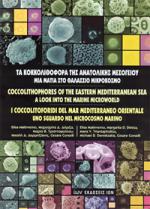 Abstract:
Τhe main scope of this book is to illustrate a magnificent marine micro world in eastern Mediterranean Sea waters, the world of Coccolithophores. The eastern Mediterranean Coccolithophores presented in this book have been collected during several cruises and samplings in the Ionian and Aegean Sea at different seasons, between the years 1997-2006. The collected material has been analyzed and photographed by Scanning Electron Microscope and Light Microscope techniques. Αs a result 375 SEM and LM microphotographs are presented together with thorough systematic taxonomy and detailed description of 132 Coccolithophore species. A novelty of this book, compared to traditional atlases, is the trilingual approach of Coccolithophore taxonomy. Each species is described in three languages, English, Greek and Italian. In this way these astonishing beautiful marine microorganisms are getting introduced to a broad public and it becomes easier for non-native English speakers - students and researchers - to get acquainted with the scientific terminology. Additionally the combination of both scanning and light microscope techniques provides the most comprehensive documentation of Coccolithophore species morphology.