Citation:
Dimiza MD. The study of recent coccolithophore biocommunities in the coastal environments of Andros island and their correlation to the Quaternary formations from central Aegean Sea. National and Kapodistrian University of Athens, Department of Geology & Geoenvironment [Internet]. 2007;(Gaia 18). Copy at
http://www.tinyurl.com/h8mktq9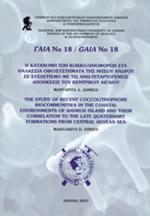 Thesis Type:
PhD thesis
Abstract:
The main purpose of the present study was the detailed qualitative and quantitative analysis of coccolithophore distribution in the marine ecosystems of the island of Andros and in correlation to the Late Quaternary recording from the region lying central-south of the Aegean Sea region.