What is OpenScholar?
OpenScholar is a website creation platform provided by Harvard University. OpenScholar is open-source and it is powered by Drupal.
What is UoAScholar?
National and Kapodistrian University of Athens, created UoAScholar service, powered by Harvard OpenScholar platform. UoAScholar has edited and extended OpenScholar features, in order to facilitate the University's faculty members to create their academic personal websites easily. UoAScholar corresponds on the specific needs of our University faculty members, as spotted in the Usability Testing we performed with a group of them, as well as the relative requests we get.
What features are provided by UoAScholar service?
Simple website creation process

Selection and change of theme at any time

Content Management System where biography, publications, conferences, events and other content can be uploaded

Drag & Drop layout system, which allows you to quickly change the place of your website elements.

Commenting System

"How to" guide and OpenScholar forums support

No programming knowledge needed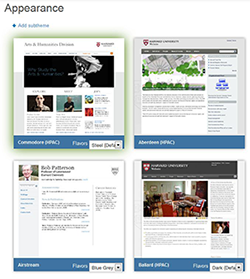 Who can create a website with UoAScholar?
Only faculty members of University of Athens can have access to this service, using their University account credentials (username and password).