Citation:
Καρακόλης, Χρήστος. "Η ηθική της βασιλείας του Θεού στο κήρυγμα του Ιησού Χριστού". In Ευαγγέλιο και ήθος κατά τον απόστολο Παύλο: Πρακτικά διεθνούς επιστημονικού συνεδρίου. 26α Παύλεια (Βέροια, 20-21 Ιουνίου 2020), 26:155-170. Βέροια: Ιερά Μητρόπολις Βεροίας, Ναούσης και Καμπανίας, 2020.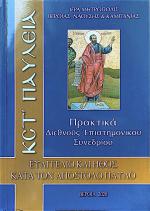 Abstract:
The present paper aims to investigate the characteristics of the kingdom of God and the ethical presuppositions for entering it. The study is limited to the witness of the synoptic gospels. The approach to the issue at hand is a synchronic one based on the method of reader-response criticism. Concretely, the gospels are read through the lens of an assumed ancient reader of the synoptic gospels who is well-versed in Greek literature and compares the concept of the kingdom of God with the one of Athenian democracy according to Pericles's Epitaph in Thucydides.

From an ethical point of view, the kingdom of God exceeds by far even the ideal democracy. Contrary to the latter, the kingdom of God is entirely peaceful, treats all its citizens as equals, invites all human beings to enter it but leaves them free to decide for themselves whether or not they wish to.
The only fight its prospective citizens have to give is against demonic powers and their own negative inclinations. Differently from Pericles's Epitaph, in God's kingdom, active love towards all, enemies included, is the quintessence of ethics. To receive God's kingdom, human beings have to love God more than anything else and their neighbor like themselves. They also have to be forgiving, self-denying, and self-sacrificing without expecting to be rewarded in the present world. On their way to the kingdom of God, they belong to those mourning, crying, and being persecuted. Earthly honor does not matter at all; the sinners, the poor, and the outliers are the first to enter the kingdom.
In sum, the ethical standards for belonging to God's kingdom are much higher than those of the citizens of the Athenian democracy. Most importantly, though, the ethics of God's kingdom is founded on faith in Jesus Christ, the true Son of God, whose earthly presence inaugurates his and his Father's kingdom.